Goat Farming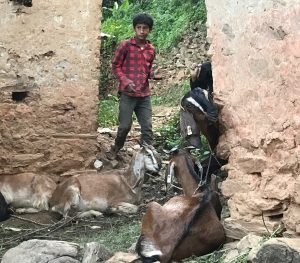 In order to prevent children migrating from villages into the Kathmandu Valley – where they will likely be employed by brick factories – CONCERN-NEPAL has developed an income generating program that allows families to remain home.
CONCERN-NEPAL gives goats and provides training on how to take care of them to vulnerable families in rural areas so that they engage in animal husbandry. Having a source of permanent income in their own village allow families to improve their living standard and prevent them from having to look for opportunities in the brick industry.
An example of the success of this program is the case of Tula Bdr Manandhar, from Ramechhap. CONCERN-NEPAL provided him with 2 goats, and with the 3 that he already owned managed to have a current farm of 14 goats. With the help of all his family, he is taking good care of his business. He claims that taking care of the goats is not always easy, as they usually get sick and keeping them in good conditions during the rainy season sometimes can be hard. However, Tula Bdr is decided to stay in Ramechhap and continue his goat farming business. Last year he managed to sell 10 goats, generating enough income for him not migrate to the Kathmandu Valley to work in the brick industry.