Support and rehabilitation of Stone quarry children:
Since October 2002, CONCERN started a module action programme for the stone quarry working children with the support of ISPI project of ILO/IPEC in Kabhre district. The project has targeted more than 1,200 working families through children's participation and community support.
Support and rehabilitation of child porters:
With the aim to remove and rehabilitate child porters from exploitative and hazardous condition CONCERN is running support and rehabilitation center since 1996. The children learn and participate in various activities such as NFE classes, kitchen gardening, vocational skills, classes on personal health and hygiene, recreation etc. They are provided medical services too. The agreement with ILO/IPEC was terminated in 2000 however CONCERN is running this center under its own capacity. ILO/TBP (Time-Bound Programme) has not yet been reached to the child porters' support due to delay in implementation. In the project, child porters are provided with various support and protection.
Advocacy work on the UN Convention on the Rights of the Child:
CONCERN is playing strong role on advocating the UN Convention on the Rights of Child nationally and internationally through its network linkages.
Children's Socialization Center:
Every year the local children from the community are found who are not enrolled in the school. They learn and participate in various activities such as NFE classes, kitchen gardening, classes on personal health and hygiene etc. After that those who are good in studies will be admitted in different schools for further education.
Emergency shelter for children at risk:
CONCERN is running an Emergency Shelter home for the displaced children. It supports children who are in crisis situation, potential to victimize and/or victimized.
Child Participatory Forum Activities:
With the aim of promoting children's participation, giving opportunities to the children to express their feelings, CONCERN has incorporated child participation from consultation, planning to implementation. All these works are conducted with the coordination with child clubs formed by the organization. It has formed child clubs in different schools as well as in NFE classes, Dalit children.
Advocacy work on the educational rights of children:
The literacy rate of children especially Dalit children is very low which is less than 5%. Hardly 12% of 40,00,000 Dalit population are literate. CONCERN is doing advocacy work both at local as well as national level to create awareness among general public and the policy makers. Activities are organized to enhance the school enrollment and decrease the drop out rates so that it will help to stop growing number of street children problem in Nepal.
Paper Recycle Project for Income Generation and Educational Support Program:
A paper recycle project has started to support underprivileged children. CONCERN staffs collects waste papers from various sites and contacts of Kathmandu Valley. Accordingly, the children are allowed to participate in various activities.
Socialization and rehabilitation of children living and working in hazardous conditions through community and children's participation:
CONCERN has started a new project with the support of Plan-Nepal focusing on the children living and working in hazardous conditions. Under this project various activities has been planned.
Promote participatory rights of children: CONCERN is one of the leading NGO's in Nepal that promotes child participation from planning to implementation of its activities. Under this activity various groups of working children will be formed and they will be motivated to organize various activities.
Rescue and rehabilitate working children through short-term emergency shelter: In the specific program (commences from January 2004), children will be rescued and rehabilitated in sustainable way. The children who are potential to victimization and/or victimized are provided with short-term shelter. During their stay in the shelter the children are provided with socialization facilities as well.
Referral and rehabilitation through NACRO (National Alliance of Child Rights Organizations): Through NACRO, of which CONCERN is coordinator, the working children will be referred to their origin districts.
Educational support to working children: Under the activity, children will be provided Non-formal Education classes and mainstreaming in formal education through participation of employers and parents.
Advocacy of UNCRC: CONCERN will also advocate on UNCRC through its national and international linkages under this activity.
Vocational training and Occupational Safety and Health: The children who are above 14 years of age will be provided vocational training. CONCERN will also promote and provide safety gears for the children. A mobile health and safety training will also be conducted through the program.
Information Technology (IT) Centers for working children in Kathmandu valley: CONCERN had initiated an IT program in 2002. Within five years the organization has planned to include a Non-formal Education (NFE).
National level action research on different segments of child labor:
Under this specific program, CONCERN conducts and produces a research report on different hazardous segments of working children.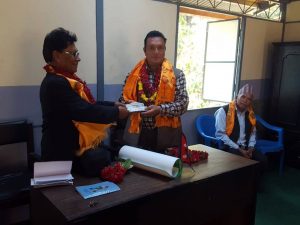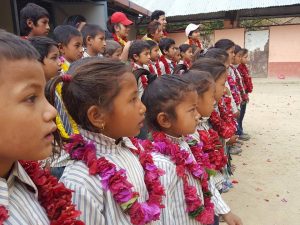 Recently, we visited in Khaniyapani Village of Sunapati Gaon Palika of Ramechhap District, where CONCERN in collaboration with Advocacy Project has been supporting brick kiln child labourers for their sustainable rehabilitation via school enrollment supports. Since the village is in remote place it took us whole day to reach there. Me, Jiyam Shrestha and three St Xavier's interns had also joined the trip. Everybody enjoyed 5 hr hiking as well, on the way back to Nepal Thok highway. We had distributed school uniform clothes and schools bags with AP and CONCERN logo on it.